A CENTURY OF CARING: The St Margaret's Hospital Story
Part One: The long-forgotten Great Barr Children's Hospital
By Peter Allen
October 2012 marked a significant milestone in the long and fascinating history of the Great Barr Hall Estate. It was on 23 October 1912 that this charming place, once the province of the privileged, first became a haven for those with special needs. That role of caring for the vulnerable actually continues unbroken to this very day. Although St Margaret's Hospital officially closed in March 1997, it is not widely known that a vestigial unit accommodating some eight individuals with profound learning disabilities still functions on site at the top of Sutton's Drive, next to the parish church.
That Century of Caring deserves to be properly chronicled. You have only to read current blogs on the social media to realise that prejudice, ignorance and misinformation still abound and that institutions such as those which developed at Great Barr are massively misunderstood. Over three issues of the Great Barr Observer I hope to put the record straight and to encourage proper recognition for the highly-motivated individuals who, down the years, gave care and succour to countless vulnerable, mostly learning disabled, individuals. That dedication to others was equal to anything we find in this more 'enlightened' age. As in all large organisations there were occasional 'bad eggs' who should never have been employed in a caring role.
Around 1910, West Bromwich Poor Law Guardians were becoming increasingly concerned with overcrowding in the infirmary, nursery and mental deficiency departments of the workhouse. As one of the largest Poor Law Unions in the Midlands, serving a population of nearly 200,000, their problems were particularly acute.
When Great Barr Hall and Park came on the market in 1912 West Bromwich Guardians saw its purchase from the trustees of the Scott family as an elegant solution to their own particular problems. The principal lot of 557 acres, comprising Great Barr Hall and Park (including two large lakes, six lodges and Park Farm) was snapped up for a modest £28,000. Incidentally, in 2006 less than a third of the original land was sold for redevelopment to Bovis Homes for £13.25 million—nearly 500 times what the whole original package cost!
From very early on West Bromwich Guardians were joined in what became known as the Great Barr Hall Scheme, by fellow Guardians from Walsall. Initially the junior partner, Walsall were to gain overall control in later years.
As soon as the estate had been acquired the removal of children and infants from the two workhouses was given top priority. Great Barr Hall had been badly neglected over the years and there was no mains water, metalled roads, gas, electricity or telephone. Untreated sewage was discharged directly into the lower lake.
New and up-to-date sanitary appliances were fitted throughout and hot water installed. The bedrooms and dressing rooms on the first floor were turned into dormitories. Several rooms were set aside for isolation purposes and staff accommodation. Some of the outbuildings at the rear were converted into a hand laundry.
The official opening took place on Wednesday, 23 October 1912, with considerable pomp and ceremony. The first contingent of 25 children were received into Great Barr Hall the following month. Within a few weeks the accommodation for 100 children and 20 mothers had been fully taken up. It is important to emphasise that the majority of these children were essentially of 'normal' intellect, although a disproportionate number were later classified as 'mentally defective'. They were 'children of the workhouse': illegitimate, abandoned or the offspring of women in receipt of indoor relief.
The youngsters thrived in their new environment and after just nine months matron was able to report that gains in height and weight were well above average. Alas, there was no way of shedding the Poor Law mantle: mothers who remained in the workhouse were only permitted to visit their offspring once in every three months.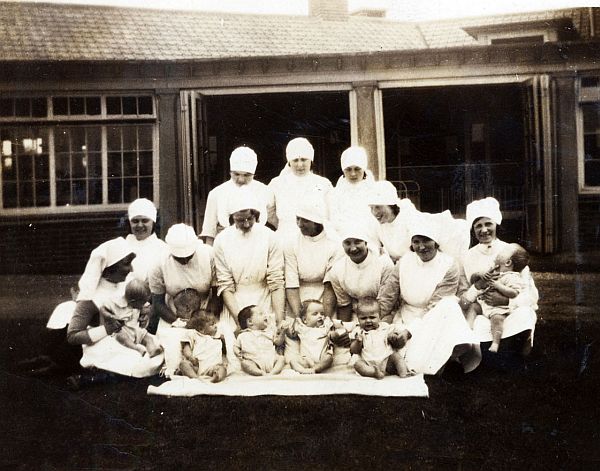 Sanders Home 1930
Later on the children's home of some 120 beds was distributed between 65-bedded Sanders Home on Sutton's Drive (opened specifically for babies in April 1926) and the original Darby Home, a wooden building built on the elevated French Garden site overlooking Great Barr Hall.

Derby Home
These were all children under the age of five years chargeable to the two constituent Unions. After reaching that age they were transferred to the Wigmore Schools in West Bromwich, another residential Poor Law establishment, where they were schooled until the age of fourteen.
The medical care of these Poor Law children was for many years in the very capable hands of an eminent consultant physician, Dr J M Smellie, later appointed Professor of Paediatrics at Birmingham University.
This children's home, which closed in 1932, was totally independent of other developments taking place elsewhere on the estate. Over the hill Great Barr Park Colony for mental defectives, the subject of the second article, had been slowly developing since 1914.
Part Two: The truth about Great Barr Park Colony
This article is Copyright Peter Allen, Chair of the Barr and Aston Local History Society
Please send any contributions to: greatbarr@b43.co.uk